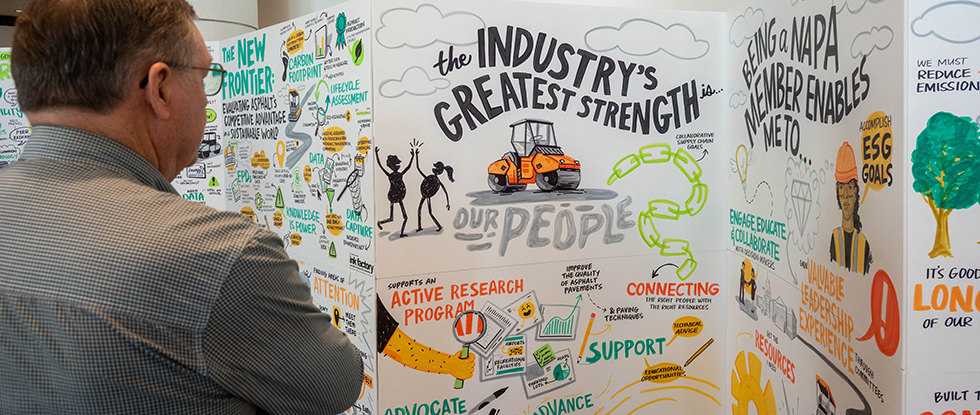 Connect + Engage + Advance
NAPA organizes meetings and events that attract people throughout the asphalt pavement and infrastructure industries: contractors, DOT personnel, federal agencies, construction managers, environmental managers, engineers, designers, estimators, business executives, young professionals, suppliers, manufacturers, media, etc.
Future NAPA Meetings
Use this list to save the date. As more details become available for specific events, summaries and links will appear below.
2024
Annual Meeting — January 28-31 in Orlando, FL
World of Asphalt — March 25-27 in Nashville, TN
NCAT Test Track Conference — May 7-9 in Auburn, AL
Midyear Meeting — July 21-24 (tentative), Location TBA
Hill Days — September 24-27, Washington, DC
Perpetual Pavement Conference — October 28-30 in Louisville, KY
2025
Annual Meeting — February 2-5 in Maui
World of Asphalt — March 25-27 in St. Louis
Midyear Meeting — TBD
2026
Annual Meeting — TBD
CONEXPO/CON-AGG — March 3-7 in Las Vegas
Midyear Meeting — TBD
2027
Annual Meeting — TBD
World of Asphalt — March 15-17 in New Orleans
Midyear Meeting — TBD
NAPA 2024 Annual Meeting
The NAPA Annual Meeting provides the latest tools and insights to help you reach your goals in the asphalt pavement industry. General sessions, workshops, committee meetings, and invaluable industry networking make NAPA's Annual Meeting where the industry gathers to set its future.
Registration is open!
Head to our EVENT WEBSITE to view the schedule, sessions, what's new, and to register.
Event Details
NAPA 2024 Midyear Meeting
Save the tentative dates for our 2024 Midyear Meeting, July 21-24.
The NAPA Midyear Meeting is three comprehensive days of committee meetings and educational sessions focused on advancing the asphalt pavement industry. Throughout this meeting, NAPA leadership gathers input, makes decisions, and reaffirms the strategic direction of our industry, members, and stakeholders.
Event Details
Perpetual Pavement Conference
CALL FOR ABSTRACTS: NAPA invites researchers and practitioners from industry, agency, and academia to submit abstracts for inclusion in the 2024 Perpetual Pavement Conference in Louisville, Kentucky. Abstracts should showcase initiatives and innovations in perpetual asphalt pavement design, construction, and pavement/infrastructure management. The submission deadline has been extended to 11:59 pm ET, October 1, 2023. See EVENT DETAILS for submission guidelines.
Event Details