Stay on top of industry best practices, news, and trends. Register for live webinars and search our store for on-demand webinars.
---
UPCOMING WEBINARS
Distribution Centers: Built Better with Asphalt 
Date: Thursday, September 28
Time: 2:00 - 3:30 PM ET
Speaker: Tim Murphy, President, Murphy Paving Technology, Inc.
Description: This webinar is for civil and geotechnical engineers and architects who seek to learn more about designing asphalt pavement for Distribution Centers (DC's). This webinar will teach proper traffic analysis in order to engineer soils stability, pavement thickness design, asphalt mix selection, and best management practices for QC inspection and testing during construction. Each item is a building block to ensure long-lasting asphalt DC's are constructed at the optimal cost for owners.
Attendees will be able to:
1. Understand the value and benefits of performing geotechnical engineering during the design phase.
2. Learn ways to improve the end product through contractor vetting, submittal reviews, pre-pave meetings, and required BMP's for measuring and achieving density.
3. Understand the benefits of using recycled materials currently available in our industry.
Professional engineers (PEs) who register and attend the entire webinar as an individual will be awarded up to 1.5 Professional Development Hours (PDHs). APA/NAPA's webinar program awards PDH credits only to the registered individual, and not to other members of a group that view the webinar together. To be eligible for the credits, individuals must remain signed in for the entire webinar, including for any question and answer session following the presentations.
APA/NAPA will report credits earned to the Registered Continuing Education Program (RCEP). Complaints about registered providers may be sent to RCEP, 1015 15th Street, NW, 8th Floor, Washington, D.C., 20005.
Register Now
Tools for Cutting Costs and Emissions during Asphalt Production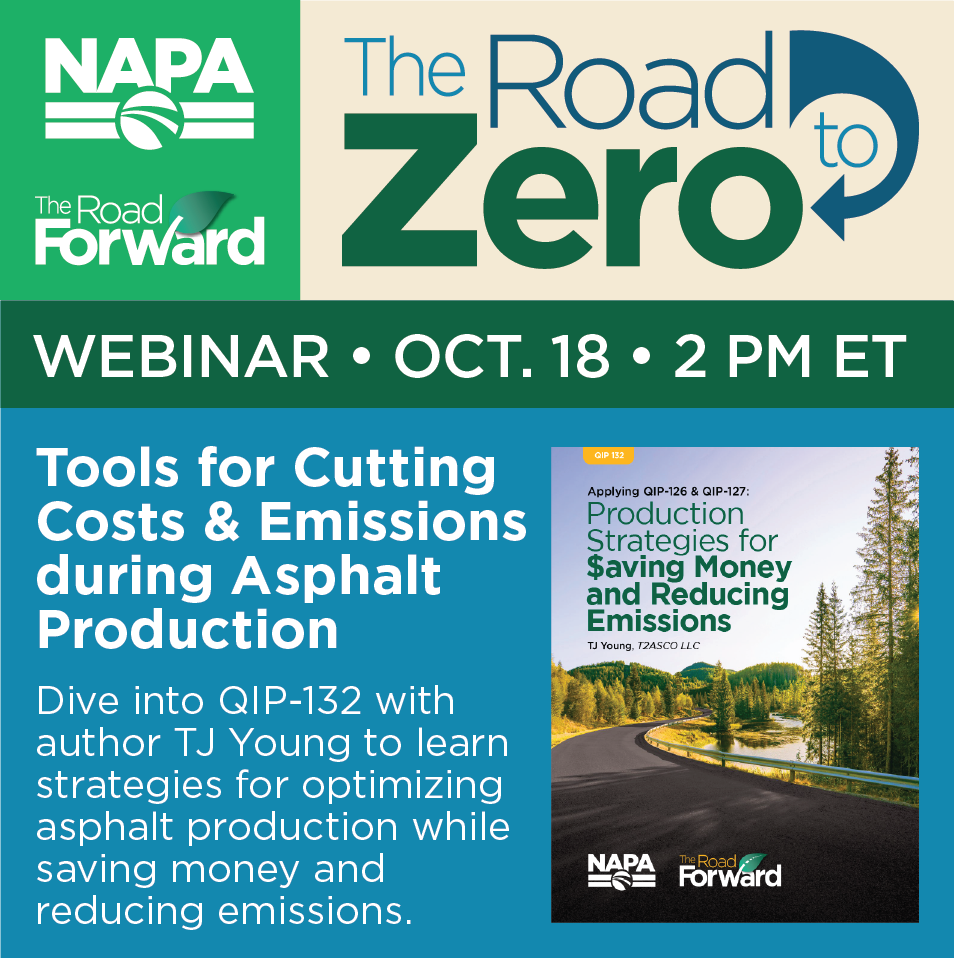 Date: Wednesday, October 18
Time: 2:00 PM ET
Speaker: TJ Young
Description: Are you interested in learning about strategies to optimize asphalt production with a focus on proven methods to save money and reduce emissions? This webinar will delve into the practical implications of QIP-126 and QIP-127, exploring how they can be effectively applied in real-world asphalt production facilities. This is a must attend webinar for those looking to enhance their plant operations efficiency and make meaningful strides towards achieving the industry's sustainability goals set out in The Road Forward.
Attendees will be able to:
Gain a clear understanding of the newly released NAPA QIP-132 publication resource.
Learn how to apply the strategies outlined in these publications to improve the efficiency of asphalt production while minimizing environmental impact.
Understand the economic benefits that can be realized through the implementation of the strategies discussed.
Register Now