The Cooperative Agreement effort between NAPA and the Federal Aviation Administration (FAA) advances multiple focus areas involving asphalt pavements and associated asphalt materials. The focus of this effort is not on inventing the next "big thing," but rather in advancing 21st-century solutions for asphalt pavement design, construction, and materials deemed important to airfield reliability, efficiency, and safety with the overarching goal to keep America moving forward.
This Program includes developing and coordinating implementation plans; developing and conducting webinars, training, workshops, and conferences for the FAA; preparing new or updating existing written technical publications, compilations of findings, and presentation materials; and supporting stakeholder engagement. The program may include research needed to adapt technology for use in airport asphalt pavement mixtures or pavement applications. This effort will leverage the unique technology implementation capabilities of NAPA with assistance of the FAA and industry, to advance deployment and adoption of innovative asphalt material technologies.
Past Research Reports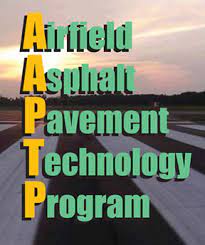 Previous reports, webinars, and other resources can be found here.
For more information:
Sign up today to receive announcements and information on the AAPTP as part of a Cooperative Agreement with the National Asphalt Pavement Association (NAPA) and the Federal Aviation Administration (FAA).
J. Richard Willis, Ph.D.
Vice President for Engineering, Research, and Technology