"I'm always excited to get the new issue of Asphalt Pavement magazine because it helps us learn what other people do around the country. We try to implement those ideas."
Jeff Kresnak, CEO of Superior Asphalt Inc.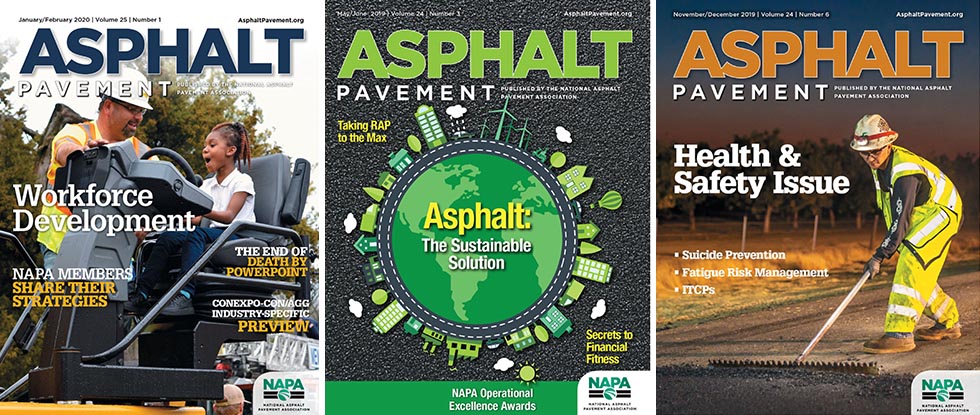 Asphalt Pavement magazine, published six times a year, provides the industry with the latest news on asphalt pavement technology and innovations, workforce development, best paving and business practices, member involvement in their communities, and association initiatives.
---
NAPA members receive a complimentary digital and print subscription. Government agencies and State Asphalt Pavement Associations receive a complimentary digital subscription. Digital subscriptions are also available to non-members who include their complete contact information, including name, job title, and company.
Advertise in Asphalt Pavement
Asphalt Pavement targets asphalt producers, contractors, city and county engineers, officials at public works departments, and personnel at state departments of transportation across the nation. For more information, view our online media kit or contact Paul Walley, publication director, at 352-333-3487.
Submissions & Reprints
Past Articles & Issues
Looking for an article that appeared in HMAT (Asphalt Pavement magazine's predecessor) or a copy of a past issue? E-mail your request to Carol Metzger. Reference "reprint" in the subject line and include the issue date, volume and number, and/or article title and author.
Article Submission
Asphalt Pavement magazine welcomes the submission of articles on subjects of interest to the asphalt pavement industry. To submit an article for consideration or request a copy of our submission guidelines, please e-mail Monica Dutcher, Editor of Asphalt Pavement.