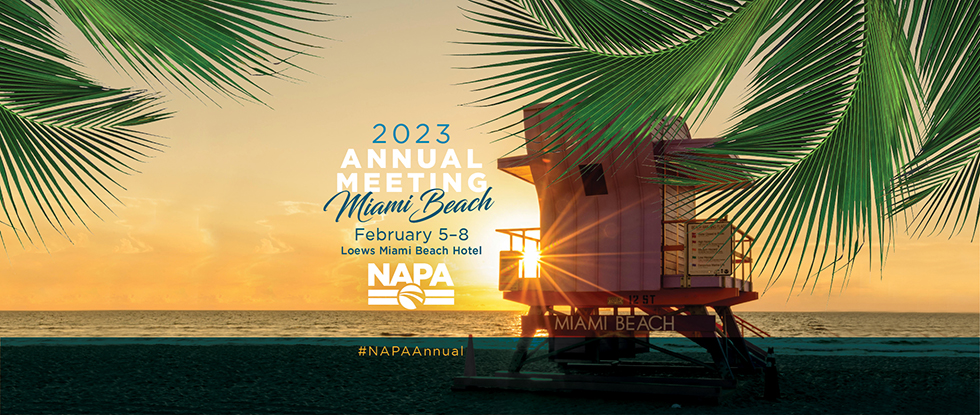 February 5–8, 2023
Loews Miami Beach Hotel
The NAPA Annual Meeting provides the latest tools and insights to help you reach your goals in the asphalt pavement industry. General sessions, workshops, committee meetings, and invaluable industry networking make NAPA's Annual Meeting where the industry gathers to set its future.
ONLINE REGISTRATION IS CLOSED. ONSITE REGISTRATION BEGINS FEBRUARY 4.
---
NEW! Know Before You Go Webinar
January 31, 11:30 am – 12:30 pm Eastern Time
Whether it's your first Annual Meeting, your first in a while, or you're just excited about seeing Lindsey Vonn speak, this webinar is your guided tour to all the NAPA happenings in Miami Beach! Attend this webinar for an overview of sessions, committee meetings, networking opportunities, awards, new features, and logistics. Plus, get your pre-event questions answered.
---
NAPA's 2023 Annual Meeting will open your world to:
800+ executives, engineers, estimators, advocacy proponents, business development gurus, health and safety professionals, and industry partners
inspiring general sessions, including alpine skier Lindsey Vonn
educational workshops
networking opportunities
celebrating the best in asphalt pavement with our awards program
an afternoon on the links (additional golf registration fee applies)
Never been to a NAPA Annual Meeting? See the 2022 program (for reference only).
Future Meetings
CONEXPO/CON-AGG — March 14-18, 2023, in Las Vegas [Login for your member discount]
2023 Midyear Meeting — July 9-12 in Kansas City, MO
2024 Annual Meeting — January 28-31 in Orlando, FL
2024 Perpetual Pavement Conference — October 5-8 in Louisville, KY