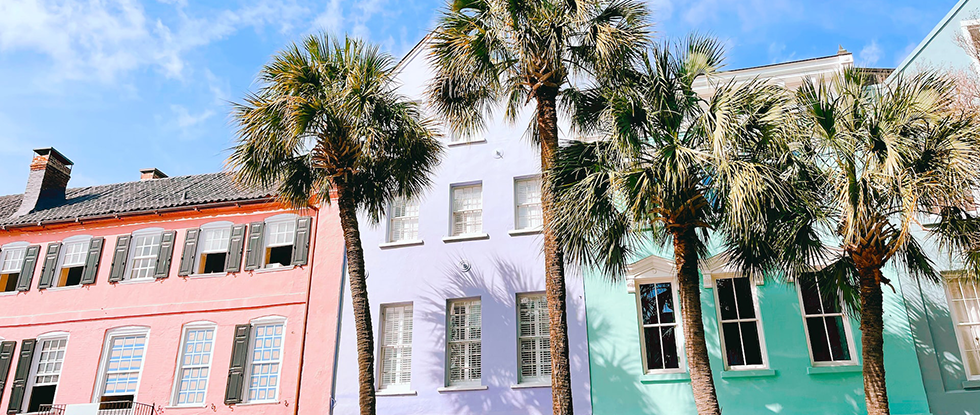 We are looking forward to seeing you in beautiful Charleston and hope that you can experience some of the optional activities and events planned over the weekend. Please reference the information and action items below as the process is different.
Planning Your Schedule
Beginning this year, we invite you to register and select your personalized itinerary via a new system.
All at once, you'll be able to:
RSVP for the 4 hosted events (Saturday evening, Sunday dinner, Monday breakfast, Monday lunch – details on each below)
Purchase tickets to optional events
Below you will find:
Detailed descriptions of the weekend activities and events
Instructions for securing your hotel reservations
The link to RSVP for the hosted events and register for optional events
Whom to contact if you need help
Your Action Items
By October 11
By October 21
RSVP for the hosted events
Register for optional activities & events

BOARD MEMBERS: If you are bringing a spouse/guest, please note the following step-by-step guidance.
Register/RSVP for your activities and events.
Click "Add Guest."
After saving your spouse/guest's contact information, you will see "Questions?" and "Select Sessions" under their name. Click both links to complete their registration/RSVP.
---
Host Hotel
Emeline
181 Church Street
Charleston, SC 29401
(843) 577-2644
Emeline is conveniently located just 20-25 minutes from Charleston International Airport with many notable points of interest nearby.
Valet parking is available for $42/night. Metered parking and hourly garage parking are available within walking distance.
NAPA Rates
These nightly rates are only available until October 11. The hotel is expecting to sell out over the dates, so be sure to reserve your room by October 11.
Friday & Saturday, November 11-12: $399
Sunday & Monday, November 13-14: $289
Tuesday & Wednesday, November 15-16: $369
Hotel Reservations
To take advantage of the discounted rates, reserve your room in the NAPA room block.
You may also call the Reservations Department at (843) 577-2644 – be sure to identify yourself as part of the NAPA Meeting.
Schedule
Members of the APA Advisory Council, Go to Market Committee, and/or Marketing Council — please reference separate communication(s) from Ester Magorka for events on Tuesday, November 15.
Things to See & Do
---
Golf at Wild Dunes Links Course
Available Saturday and/or Sunday, November 12-13
With rolling fairways and picturesque finishing holes along the Atlantic, to challenging greens along the marshes of the Intracoastal Waterway, the Links Course was Tom Fazio's first and is still among his favorites. NAPA will arrange tee times and round-trip transportation from the Emeline.
Round-trip Transportation & Box Lunch: $125
Greens Fees: $190 (paid directly to club)
Club Rentals: $60 (paid directly to club)
---
Charleston Garden Tour & Indigo Dyeing
Saturday, November 12 only
Visit the private garden of Louisa Pringle Cameron. "Long famous for its charming courtyard gardens in the peninsula's historic district, Charleston, South Carolina, has a remarkable southern landscape that also includes dozens of exquisite private gardens, city parks, cemeteries, institutional gardens, and even an urban farm. In Charleston: City of Gardens, Louisa Pringle Cameron shares the splendor of these gems along with accounts from garden owners, an urban forester, a city horticulturalist, and other overseers of the Holy City's beautiful green spaces."
After touring the garden, hear the history of indigo and receive instruction of the indigo dyeing process while creating a neckerchief to take home as a gift or souvenir. Indigo has been central to South Carolina's history since it was first introduced to the then-colony in 1744. Over the remainder of the 18th century, indigo would become second only to rice among South Carolina's most valuable exports. The vibrant blue colorant yielded by the indigo plant was in high demand for the British textile industry, and American growers shipped over one million pounds of indigo to England just before the American Revolution. Thousands – perhaps tens of thousands – of laborers were responsible for the crop's cultivation and production during this period. Today, the cultural nod to this history and population is visible along this region's Gullah Geechee Cultural Heritage.
Activity Price: $225 per person
---
Wine Blending Experience
Saturday, November 12 only – 18 seats available
During this 90-minute journey into winemaking, you'll learn how to blend your perfect glass, get a little winemaking history, plenty of tasting along the way and some hors d' oeuvres to nibble on.
Activity Price: $150 per person
---
Evening at the Edmonston & Alston House
Saturday, November 12 only
Enjoy tours of the historic home with cocktails. The Edmondston-Alston House is located on the waterfront of the Charleston Harbor. Built in 1825, it was one of the first substantial homes along the city's sea wall thoughtfully removed from the noisy wharves and warehouses further up the Peninsula. Originally built by Charles Edmondston, a successful commercial shipping merchant, success evaded him during the panic of 1837 and the house was sold to Alston and renovated in the Greek revival style. From any one of the three sprawling piazzas you can experience one of the best birds-eye views of the Charleston Harbor.
Sponsored by Ingevity
---
Charleston by Private Carriage
Sunday, November 13 only – 16 seats available
Relax on your private horse-drawn carriage as the guide takes you onto some of Charleston's most beautiful streets. Learn about the city and nation's history as you pass by beautiful antebellum homes. As you approach Battery Street, feast your eyes on famed Battery Row, known for its stately homes. The Battery is host to a line of towering waterfront mansions representing the height of Charleston wealth and opulence. Shaded by large oak trees and lined with Palmetto Trees that overlook the Charleston Harbor, homes here range in origin from 1735 to 1920. Each tour and guide is different, so even those who have been here before will see and hear new morsels of the Holy City's history.
Activity Price: $75 per person
---
Board of Directors Dinner
Sunday, November 13 only
Hosted at Élevé Rooftop Restaurant & Lounge in the Grand Bohemian Hotel, the evening will include cocktails followed by dinner.
Hosted by NAPA
---
Spouse/Guest Breakfast
Monday, November 14 only
Hosted by Board Chairman Jim Mitchell's wife Jill, come make new friends and connect with old friends by attending the group breakfast.
Hosted by NAPA
---
Candle Making
Illumination offers comfort and clarity. But the light of a candle offers much more. The twitch and flicker of the flame can hold you spellbound… or invite you into meditation. Add to the bewitching effects of the tiny blaze a subtle but undeniable fragrance, and the impact is truly multi-layered. This is what the makers at Candlefish count on. You'll create your own candles by choosing scents that best speak to your senses, making you both artist and aromatherapist.
Activity Price: $125 per person
Can't find the answer to your question?
Please contact us as indicated below and we'll do our best to help!
Registration
Liz Price
Manager, Meetings & Education
(240) 825-4436
Monday's Board Meeting
Kim Williams
Executive Assistant to the President & CEO
(240) 825-4451
All Other: Schedule, Hotel, Activities, etc.
Kimberly Sumner
Senior Director, Meetings & Education
(240) 825-4445