Who is NAPA?
The National Asphalt Pavement Association (NAPA) is the only trade association that exclusively represents the interests of the asphalt producer/contractor on the national level with Congress, government agencies, and other national trade and business organizations. NAPA supports an active research program designed to improve the quality of asphalt pavements and paving techniques used in the construction of roads, streets, highways, parking lots, airports, and environmental and recreational facilities. The association provides technical, educational, and marketing materials and information to its members; supplies product information to users and specifiers of paving materials; and offers educational opportunities. The association, which counts more than 1,200 companies as members, was founded in 1955.
Annual Report 2020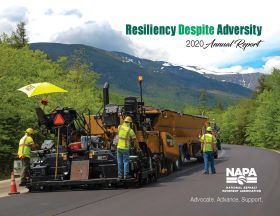 2020 was a year of unprecedented change. NAPA worked in tandem with members and partners to discuss the industry's essential nature and advocate for COVID relief. Learn more about how NAPA advocated, advanced, and supported the membership in a constantly evolving environment.
Our Mission
NAPA works to support, advocate, and advance the asphalt pavement industry. We support our members through education, technical advice, recognition programs, and peer engagement. We advocate by engaging, collaborating with, and educating decisionmakers. We advance the industry through innovation and research, thought leadership, and promoting safe, efficient, sustainable operations.