The Ronald D. Kenyon Award for Research and Education is awarded in recognition of outstanding contributions to research and education surrounding asphalt pavement technology; environmental, health, and safety; and asphalt pavement sustainability. The Kenyon Award honors those deserving individuals whose work and leadership have made a significant contribution to the advancement of the asphalt pavement industry.
In January 2019, James M. Melius, M.D., DrPH became the latest Kenyon Award honoree. Melius dedicated his professional life to protecting the health and safety of working men and women. He was a strong NAPA partner and worked with the association for more than 20 years on the asphalt fumes issue. Among his many accomplishments, Melius forged the agreement between the National Institute for Occupational Safety and Health and the construction industry to create the National Construction Safety and Health Research Program.
He was a driving force behind the development of the Silica/Asphalt Milling Machine Partnership, and he worked with NAPA on the Engineering Controls Initiative and the deployment of warm-mix asphalt technologies in the U.S. Melius's contributions to occupational research and policy have and will continue to positively affect American workers.
Access the form to nominate someone for the Ronald D. Kenyon Award, or contact Ester Magorka.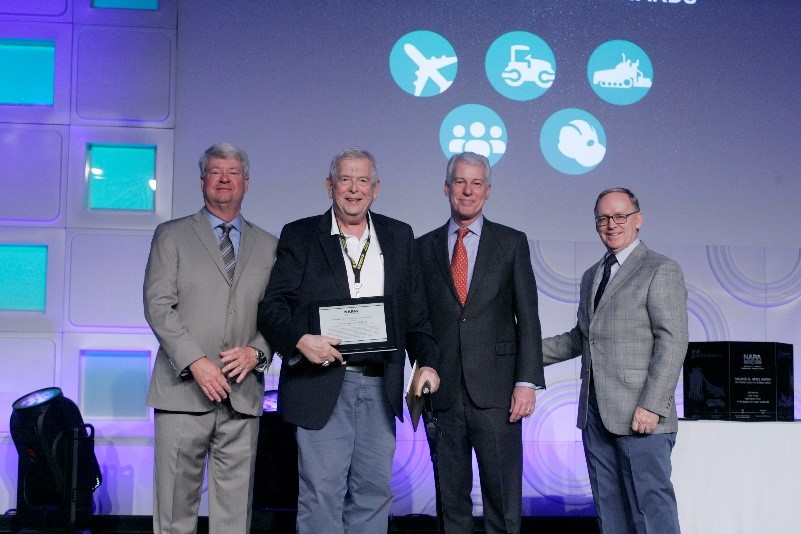 Past Recipients
1991 — Thomas W. Kennedy, Ph.D., University of Texas at Austin
1992 — Jon A. Epps, Ph.D., P.E., University of Nevada, Reno
1993 — Damian J. Kulash, Ph.D., Strategic Highway Research Program
1994 — Thomas B. Deen, P.E., Transportation Research Board
1995 — Matthew W. Witczak, Ph.D., PCS/Law Engineering
1996 — Byron E. Ruth, Ph.D., University of Florida
1997 — Marshall R. Thompson, Ph.D., University of Illinois at Urbana-Champaign
1998 — E. Ray Brown, Ph.D., National Center for Asphalt Technology at Auburn University
1999 — Paul F. Parks, Ph.D., Auburn University
2000 — Byron Lord, Federal Highway Administration
2001 — J. Don Brock, Ph.D., P.E., Astec Industries Inc.
2002 — Carl L. Monismith, Ph.D., P.E., University of California, Berkeley
2003 — Joe P. Mahoney, Ph.D., University of Washington
2004 — R. Gary Hicks, Ph.D., P.E., Oregon State University
2005 — Stephen F. Brown, OBE, DSc, FREng, University of Nottingham
2012 — Larry D. Benefield, Ph.D., P.E., Auburn University
2016 — John Bukowski, Federal Highway Administration
2017 — Anthony Kriech, Heritage Research Group
2018 — James M. Melius, M.D., DrPH,
2021 — Rebecca "Becky" S. McDaniel, Ph.D., P.E., Purdue University