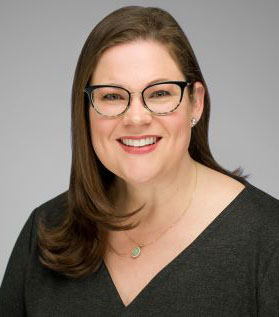 Audrey Copeland, Ph.D., P.E.
President & CEO
Audrey oversees the strategic direction and operations of all NAPA programs and leads a staff dedicated to supporting, advocating for, and advancing the asphalt industry.
Experience
Prior to being named President & CEO, Audrey served as NAPA's Vice President of Engineering, Research, and Technology. In this role, she secured $5 million in dedicated funding for asphalt technology, research, and development. A first in NAPA's history, under Audrey's leadership, NAPA was awarded more than $2 million in federal funding to advance innovative asphalt technologies. She led the five-year project which has resulted in continued growth of recycled asphalt pavements; improved production, construction, and performance of asphalt mixtures; and numerous educational opportunities through industry-government working groups, conferences, and publications.
Audrey also led an ongoing partnership between NAPA and the 39 State Asphalt Pavement Associations (SAPAs) that brought $3 million for research and development, which helped advance better understanding and use of life-cycle cost analysis and development of the PaveXpress pavement design software. This funding was also used to create and implement the Emerald Eco-Label, NAPA's verified Environmental Product Declaration (EPD) tool for asphalt mixtures.
Audrey began her career as a highway engineer and researcher at the Federal Highway Administration (FHWA), where she headed a national effort to increase the use of recycled asphalt pavements, leading to more than 10 state DOTs changing their specifications. She also led a pooled-fund study among state DOTs for implementation of the Asphalt Mixture Performance Tester and was a key member of the Every Day Counts initiative to advance deployment of warm mix asphalt – now estimated to exceed 40 percent of the asphalt pavement market.
Audrey is a Past President and serves on the Board of Directors of the Association of Asphalt Paving Technologists (AAPT). In addition, she is a founding member and the current Secretary of the Women of Asphalt. Audrey is a member of the American Society of Association Executives, the American Society of Civil Engineers, and the National Society of Professional Engineers. She is a registered engineer in the Commonwealth of Virginia and in Maryland.
Education
M.S. and B.S. in Civil & Environmental Engineering, Tennessee Technological University
Ph.D. in Civil Engineering, Vanderbilt University