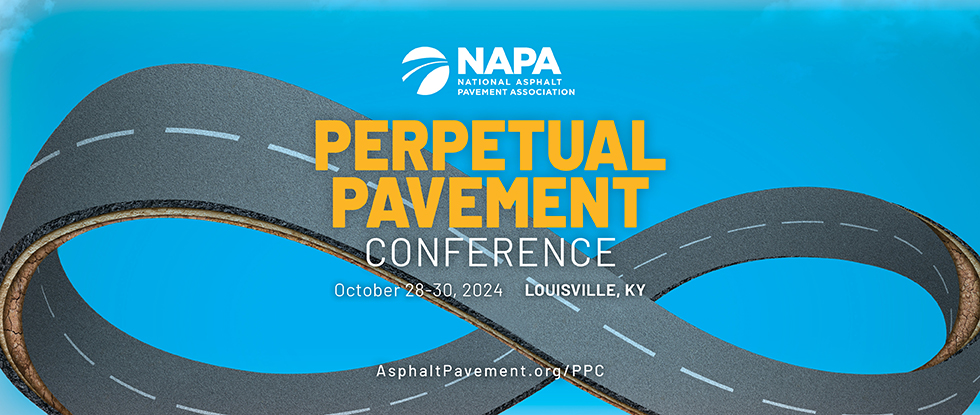 October 28–30, 2024
Omni Louisville Hotel
NAPA invites researchers and practitioners from industry, agency, and academia to submit abstracts for inclusion in the 2024 Perpetual Pavement Conference in Louisville, Kentucky. Abstracts should showcase initiatives and innovations in perpetual asphalt pavement design, construction, and pavement/infrastructure management.
Submission deadline EXTENDED — 11:59 pm ET, October 1, 2023
Abstracts that highlight the following topics are of particular interest
Perpetual Pavement Design (new pavements, reconstructing existing pavements, and others)
Asphalt Mix Design and materials use in Perpetual Pavements

Laboratory performance testing
Recycled materials (e.g., RAP, RAS, and recycled tire rubber)
Mixture types
Mixture additives

Perpetual asphalt pavement's role in reducing carbon emissions
Sensors and enhanced pavement condition and traffic monitoring of perpetual pavements
Perpetual pavement case studies

Traditional highway pavements
Other perpetual pavements for airfields, freight facilities, local streets, etc.

Life-cycle cost analysis of perpetual asphalt pavements
Life cycle assessment of perpetual asphalt pavements
Asphalt mixture production and perpetual pavement construction practices
The business case for Perpetual Pavements
Abstract Content
The abstract should include background information as well as methods, practices, outcome data, and recommendations as applicable.
Abstracts may include materials presented or published elsewhere (within the past 2 years) so long as the information is updated and made specific to this conference.
Each abstract submission must be classified in one of the following categories:

Perpetual Pavement Design
Materials/Asphalt Mixtures
Production/Construction Practices
Sustainability/Emissions/LCA
Pavement Management/LCCA
Case Study
Submission Requirements
All submissions must comply with the following guidelines. Failure to comply may result in rejection during the review process.
Individuals are allowed a maximum of 2 abstract submissions.
Incomplete submissions will not be considered for review.
Submitters must disclose any potential conflict of interest related to the content (e.g., commercial interest, affiliation with a vendor, receipt of royalties) and affirm that their participation will not be used to sell a particular product or service. NAPA can reject or rescind the acceptance of an abstract due to any conflict of interest discovered at any time.
All abstracts must be submitted via the EVENT WEBSITE.
You will receive an email confirmation message following abstract submittal.
Tips for Successful Sumbissions
Complete and submit your submissions by the deadlines.
Only submit an abstract on behalf of yourself.
Submit a maximum of 2 abstracts.
Provide all the required information.
Comply with the submission length requirements.
Take note of what the reviewers will be looking for (see Review Process below).
Review Process
The Conference Committee will review each abstract. The Conference Committee is not obligated to provide feedback on the abstract. Reviewers and submitters should consider:
Relevance to overall theme of the conference and topics of particular interest (listed above)
Clear connection to perpetual asphalt pavements
Quality of the abstract
Novelty of the topic (i.e., topic provides a new or novel perspective) – this is not a requirement but may be advantageous
Acceptance Notification
Submitters will be notified about the status of their abstract submission(s) via email no later than November 17, 2023.
Accepted abstract submitters will be asked to prepare for review a draft paper or technical brief (4 to 12 pages in length, following TRB formatting) by January 26, 2024.
Upon completion of the review, all comments must be addressed by June 28, 2024, for inclusion in the conference proceedings.
Accepted presenters must submit their PowerPoint presentation by September 20, 2024. Additional instructions will be provided with notification of final acceptance.
Podium Presentation Format
All podium presentations will be done live and in person.
Podium presentations are allotted 20 minutes.
Presentations focused on similar topics will be scheduled back-to-back and followed by a question-and-answer time for the speaker panel.