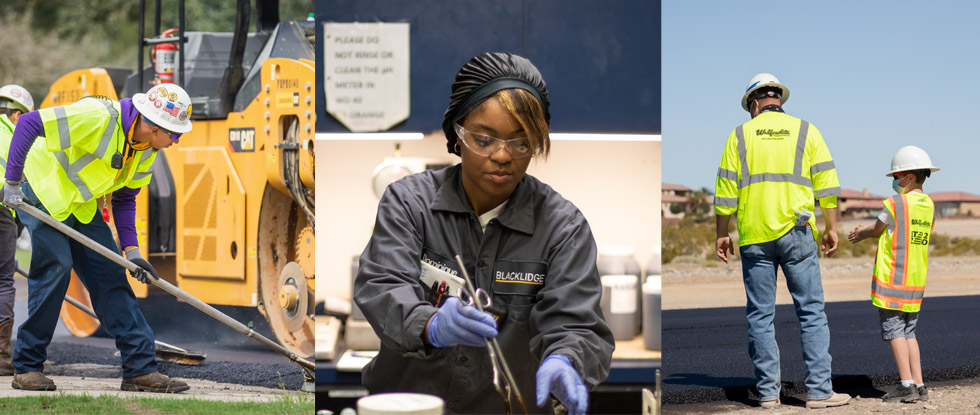 The Future Workforce
NAPA aims to assist member efforts to accelerate recruitment and retention of workers through:
The development and deployment of effective communications about the benefits and opportunities for career growth and advancement in the asphalt industry;
Construction of a comprehensive and collaborative network of partnerships with stakeholders inside and outside of the industry; and
Creating guidance on exceptional work environments and opportunities for workers.
Careers in Asphalt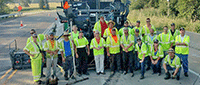 The asphalt industry needs skilled workers and provides its workers with advancement pathways and opportunities to grow. Learn more at NAPA's Career Pathways site.
Workforce Development Findings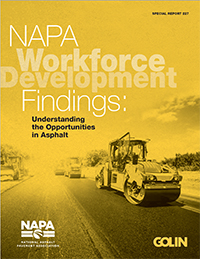 Our research shows that the general public and educators are largely unfamiliar with the road construction industry.
Challenges & Opportunities
At first blush, the task ahead is astounding. We are facing an aging workforce, record employment shortages, and a decline in the prestige of skilled trades — all while five generations are in the workforce. However, the solution is easy. It's right in front of us — tell the industry's story.
Our research shows that the general public and educators are largely unfamiliar with the asphalt industry. In fact, familiarity of the road construction industry lags behind manufacturing, general construction, trucking, and agriculture. However, through our discussions and surveys, we found that people are open to learning more about road construction. By simply engaging potential workers and discussing growth pathways and future opportunities, the road construction industry's favorability rose by 15 percent.
Work is always work. Even people who love what they do understand that there are hard days. The trick is to find meaning, joy, and fulfillment in work. Our industry is building the roads that everyone uses to drive to work, school, or the store. We connect everyone to the people, places, and activities in their lives. Asphalt industry workers are building the physical world we all inhabit. There is dignity and value in that work.
NAPA's research shows that the public wants to hear about the Americans we employ, the on-the-job skills that are developed, the long-term career potential, and the impact the industry has on the local community. By promoting what we do, along with who we serve, and our values — we will succeed. We are all industry ambassadors; we all have our own inspiring story to tell. Take pride in what you do and speak authentically from your heart about the opportunities this industry has provided you.
When you become an ambassador for our industry you will begin to shift perceptions and build an engaged and excited workforce.
Workforce Development Contact
Vice President for Engineering, Research, and Technology