Update: CDC Releases Additional Guidance on Masks
On Aug. 6 and 7, the CDC released three recommendations about wearing face coverings:
The CDC has resorted to calling face coverings "masks;" however, the agency specifies that the term does not include "surgical masks or respirators [because] those are critical supplies that should be reserved for healthcare workers and other first responders."
The "CDC [now] recommends that people wear masks in public and when around people who don't live in your household."
The CDC emphasizes that "masks with exhalation valves or vents should NOT be worn to help prevent … spreading COVID-19 …."
NAPA is engaging with the Construction Industry Safety Coalition on this issue, recognizing that, in any job activity, there are limitations, interpretations, and realities associated with the CDC's ongoing and changing policies and recommendations regarding face coverings. NAPA stands by our April 10 recommendation (in partnership with ARTBA) that face coverings should be worn if road construction workers can't maintain a 6-foot social distance from others. However, state and/or local regulations or company policy always dictate whether additional safety measures must be taken.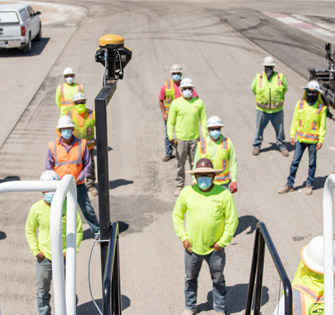 Many states require some form of respiratory protection, including face coverings, for the public and essential workers, especially when individuals are unable to maintain appropriate social distancing. For example, New Jersey requires all construction workers to wear face coverings and New York requires all individuals to wear face coverings if they cannot maintain appropriate social distancing. Other states, like Rhode Island, have different requirements.
To provide better guidance on using respiratory protection, including face coverings, during road construction activities, NAPA and ARTBA partnered to develop this road construction COVID-19 respiratory protection guidance.