Nearly a Third of All Asphalt Mixes Made With Warm Mix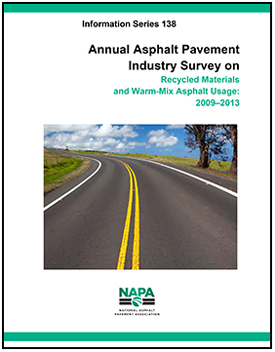 The latest NAPA/FHWA survey of asphalt producers' use of recycled materials and warm-mix asphalt finds that almost a third of all asphalt produced during the 2013 construction season was produced using warm-mix asphalt technologies.
The survey, conducted by NAPA under contract to FHWA, found that 106.4 million tons of WMA was produced in 2013. This is a 23 percent increase from 2012 and greater than 533 percent increase in the use of warm mix since the survey was first conducted in 2009. In the 2009 survey less than 5 percent of asphalt pavement mix tonnage was produced using warm-mix technologies; in 2013, it was more than 30.3 percent.
The survey also found that about 73.5 million tons of reclaimed asphalt pavement (RAP) and 1.7 million tons of reclaimed asphalt shingles (RAS) were used in new asphalt pavement mixes in the United States during in 2013. Reclaiming and reusing the asphalt cement in RAP and RAS saved about $2 billion in 2013 compared to the use of virgin materials.
Producers were also asked about ground tire rubber, steel and blast furnace slag, and other waste material repurposed into pavements. Although national estimates of usage were not calculated, survey respondents reported using nearly 1.2 million tons of these materials in 2013 in the production of more than 6.6 million tons of asphalt pavement mixes.
The tons of asphalt pavement mixtures produced using recycled and reclaimed materials was predominately flat from 2012 to 2013, despite a 2.5 percent drop in total tons of asphalt produced during 2013 compared to 2012. However, the percentage of tons produced using these materials was slightly greater in 2013 than 2012.
The survey was conducted in mid-2014. Results from 249 companies with 1,281 plants in all 50 states, the District of Columbia, and Puerto Rico, along with data from State Asphalt Pavement Associations for 38 states, were used to compile the report. A full copy of the survey, including state-by-state appendixes can be downloaded from www.AsphaltPavement.org/recycling.
Warm-Mix Asphalt Wins NOVA Award
The National Asphalt Pavement Association (NAPA) has received the prestigious 2013 NOVA Award from the Construction Innovation Forum (CIF) for its work to speed the deployment and uptake of warm-mix asphalt.
"NAPA is proud to accept this award on behalf of the asphalt pavement industry, warm-mix technology developers, and our partners at the Federal Highway Administration (FHWA) and state departments of transportation nationwide. The success of warm mix is due to cooperation and a willingness to innovate from road owners and builders alike," said NAPA President Mike Acott.
In selecting warm mix to win a 2013 NOVA Award, the investigators cited its ability to improve compaction, reduce fuel or energy use, improve worker comfort, lengthen the paving season, and reduce overall paving costs. Continued
Research Finds Unintended Consequences of Reflective Pavements
Addressing the urban heat island effect (UHI) is a growing concern for many municipalities, but a new report from Arizona State University (ASU), "Unintended Consequences: A Research Synthesis Examining the Use of Reflective Pavements to Mitigate the Urban Heat Island Effect," calls into question many common assumptions about the ability of reflective pavements to mitigate UHI.
Reflective surfaces redirect solar energy and for this reason high-albedo, reflective, or "cool" roofs have been suggested as an important tool for UHI mitigation. However, efforts to apply the same principle to pavements overlook the complexities of urban geography and how ground-level reflections interact with pedestrians, vehicles, and the built environment.
"We cannot assume that reflective pavements will behave the same as reflective roofs. When energy is reflected from a ground surface, it doesn't return directly to the sky. It reflects back at buildings and pedestrians. Heat concentration in urban areas is a multifaceted problem; it requires a solution that looks at more than just one mitigation strategy," said Heather Dylla, Ph.D., Director of Sustainable Engineering for the National Asphalt Association (NAPA).
A copy of the report can be downloaded from the ASU National Center for SMART Innovations website at http://ncesmart.asu.edu/news/unintended-consequences.