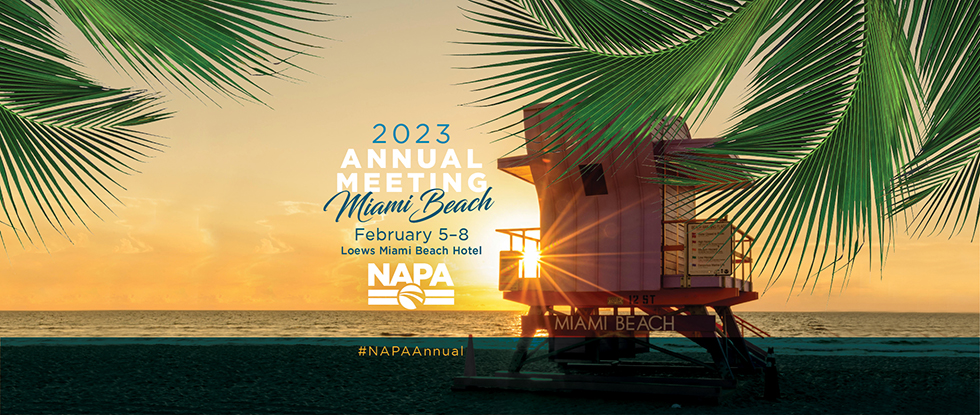 Hotel
NEW: Register first, before you book your stay at the vibrant Loews Miami Beach Hotel.
Hotel Reservation Process
To increase the opportunity for those registered to stay at the host hotel, meeting registration is required prior to reserving a hotel room in the NAPA room block.
After you register for the 2023 Annual Meeting, you will receive a registration confirmation email with instructions on how to book accommodations in the NAPA room block.
Hotel rooms will be available for registered attendees on a first-come, first-served basis through January 5 or until the room block is full (whichever comes first).
Host Hotel & Room Rates
Loews Miami Beach Hotel
1601 Collins Avenue
Miami Beach, FL 33139
See Loews Miami Beach Hotel Services + Amenities
Room rates at the hotel for registered attendees start at $399 per night for single/double occupancy + applicable taxes and a $15 discounted resort fee. (The hotel's customary $32 resort fee may be shown in the hotel's website/confirmation; however, the discount will be applied to rooms in the NAPA room block.)
The deadline for the discounted rate available to NAPA meeting attendees at the Loews Miami Beach Hotel was January 5. Rooms may still be available but subject to room and rate availability. The following hotels are within close proximity to the Loews and also subject to room and rate availability.
Royal Palm South Beach Miami
1545 Collins Avenue
Miami Beach, FL 33139
305-604-5700
Hyatt Centric South Beach
1600 Collins Avenue
Miami Beach, FL 33139
305-428-1234
Hotel Room Block Policy
Any hotel reservations in the NAPA room block without a corresponding meeting registration may be canceled by the hotel/NAPA without notice and subject to the deposit being forfeited. Only one hotel room reservation can be made per registered attendee. To inquire about additional rooms, please contact the NAPA meeting registrar at Events@AsphaltPavement.org.
Hotel Deposit & Cancellation
All reservations require a deposit equal to one night room rate + tax. You may cancel your hotel reservation on or before January 5 without penalty. Deposits are forfeited for cancellations received after January 5.
Changes to Hotel Reservations
Please contact the hotel directly for name changes, arrival/departure changes, and/or cancellations.
Additional Hotel Accommodation Questions?
Please contact the NAPA meeting registrar at Events@AsphaltPavement.org.
WARNING: Beware Fake Hotel Reservations & Related Scams
Unfortunately, it is very common for fake or deceptive companies to solicit association meeting attendees and exhibitors. Hundreds of such entities are known to exist, yet are difficult to stop. They misrepresent themselves, make false claims, and do not deliver on their promises – often leaving victims with large bills, no place to stay, and no recourse. Here's how to protect yourself.
Sponsorship and registration for NAPA meetings are handled exclusively by NAPA.
Hotel bookings are handled exclusively through our official partner. Only rooms reserved following NAPA's hotel reservation policies are part of NAPA's official room block and are protected by the Association's contract with the hotel. If you reserve accommodations through another system, site, or provider, we have no recourse if something goes awry.
Please ignore any phone or email solicitation you receive that does not come directly from NAPA via our AsphaltPavement.org website and email domain.
NAPA does not sell or rent our attendee, sponsor, exhibitor, or member lists. Scammers and poachers often access previous meeting lists, directories, etc., and employ pressure tactics that carry an air of legitimacy to try to swindle you. Be vigilant, pay attention to details, and don't fall prey.
You do not need to report scams to us, but if you are ever in doubt or need help, please contact NAPA staff at Events@AsphaltPavement.org or 888-468-6499.
Transportation
Airports
Traveling to NAPA's 2023 Annual Meeting by air is convenient with two major airports servicing the Miami area:
Miami International Airport (MIA)
2100 NW 42nd Avenue, Miami, FL – 12 miles from hotel
Explore Ground Transportation options
Fort Lauderdale International Airport (FLL)
100 Terminal Drive, Fort Lauderdale, FL – 29 miles from hotel
Explore Ground Transportation options
Hotel Parking
Valet parking is available for $50 including tax overnight. Self-parking is available in the garage across the street.
Health & Safety
While not required, NAPA encourages all eligible attendees, guests, and children to be vaccinated and boosted at least 2 weeks prior to travel.
Please do not travel if:
You are sick or experiencing symptoms.
You tested positive and haven't ended isolation (even if you are fully vaccinated).
You are waiting for test results. If your test comes back positive while you are at your destination, you will need to isolate and postpone your return until it's safe for you to end isolation. Your travel companions may need to self-quarantine.
Domestic & International Travel Requirements
All international travelers to the United States, including US citizens and Legal Permanent Residents, must be fully vaccinated prior to travel.
Local Guidance
Florida has no testing and/or vaccination requirement.
Miami-Dade County has no mask mandate, but encourages you to be safe and practice social distancing. Face masks and coverings are optional for Miami-Dade County public transit, Miami International Airport, and PortMiami.
Safety Onsite
Be aware that people may have different comfort levels regarding personal interactions.
Sneeze or cough into your elbow, not your hand.
Wash your hands regularly.
Hand sanitizer and masks will be available.
Additional Information