The Voice of the Asphalt Pavement Industry
Our weekly e-newsletter, ActionNews, is one of the many benefits our members receive. Here are some of our latest top stories.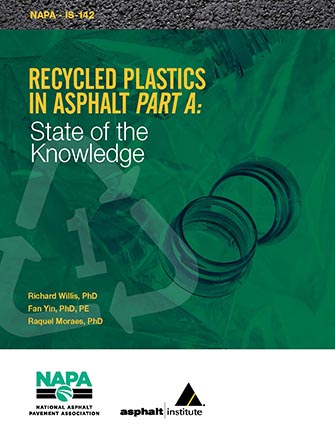 NAPA Works to Understand Use of Plastics in Asphalt Mixes
In October 2019, NAPA and the Asphalt Institute created a joint task force to evaluate the potential of using recycled plastics in asphalt. The task force hired the National Center for Asphalt Technology to conduct a literature review, which yielded two new documents: Recycled Plastics in Asphalt Part A: State of the Knowledge and Recycled Plastics in Asphalt Part B: Literature Review.
NAPA also discussed plastics on its latest podcast episode of "Pave It Black" and created a shareable video to inform political leaders, transportation officials, and the general public on what the asphalt industry is doing to evaluate the potential for using plastic in asphalt.
The release of these materials comes on the heels of the Save Our Seas 2.0 Act. Included in the legislation is a provision (Sec. 303, pg. 58) authorizing the National Academies of Science to conduct a study on repurposing plastic waste in infrastructure. In early August, the House of Representatives approved and sent to the Senate the fiscal year 2021 appropriation bill for the Departments of Transportation and Housing and Urban Development (THUD). The bill included $800,000 for research on using plastic in infrastructure.