Reclaimed Asphalt Use Reaches New Heights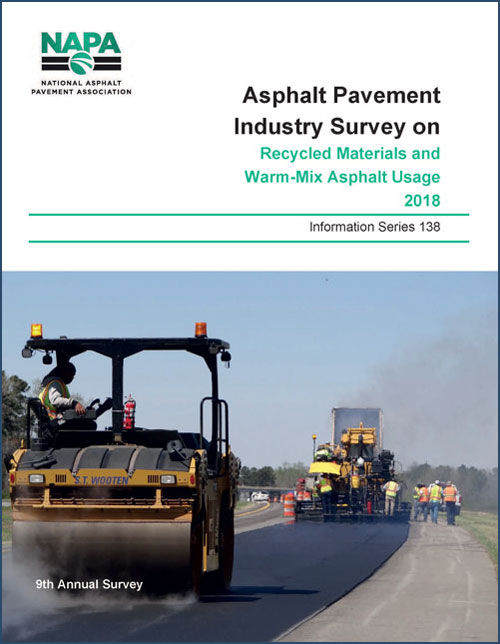 During the 2018 construction season, on average, new asphalt pavements contained 21.1 percent RAP, according to the latest version of NAPA's annual survey of the industry and its use of recycled materials and warm-mix asphalt (WMA). In total, more than 101 million tons of RAP was reclaimed, saving 61.4 million cubic yards of landfill space. Of this, more than 82 million tons was put back to use in 389.3 million tons of new asphalt pavement mixture. Last year also saw an increase in the use of RAS, with more than a million tons of recycled asphalt shingles being used, which is an increase from 2016 and 2017. The use of RAP and RAS resulted in cost savings of more than $2.9 billion compared to the use of virgin materials.
Use of WMA technologies slightly increased to 157.4 million tons, more than half of which was produced at reduced temperatures. The most commonly used WMA technology was, once again, plant-based foaming. NAPA thanks the 272 companies and 1,329 plants that provided data for the 2018 survey, which was conducted with the support of the Federal Highway Administration. The 2019 construction season survey will begin seeking data in 2020.
NAPA Moves to New Headquarters
As of September 13, 2019, the National Asphalt Pavement Association has relocated its headquarters. The new address is 6406 Ivy Lane, Suite 350, Greenbelt, MD 20770-1441. Telephone and fax numbers are unchanged. Click here for directions.
NAPA's new home is a modern, dynamic space that will allow the association to better serve its national membership. With expanded meeting spaces and advanced teleconferencing capabilities, the new headquarters were designed to support greater collaboration between NAPA staff and member committees and task groups, as well as to enhance the quality of NAPA webinars and educational activities.
"This state-of-the-art facility is built with the industry in mind," said NAPA Chairman John Harper, Senior Vice President of Construction Partners Inc. in Dothan, Alabama. "The improved technological infrastructure, as well as the convenient location, will boost how NAPA staff connects with the association's members nationwide."
FHWA 'Asphalt Pavement Principles' YouTube Series
The new "Asphalt Pavement Principles" online video series from the Federal Highway Administration highlights the innovation and collaboration that go into modern asphalt pavements. Developed with the cooperation of the National Asphalt Pavement Association (NAPA), the videos feature engineers, academics, and other industry figures discussing best practices for pavement performance.
"These videos help agencies and paving contractors alike better understand how to design and build asphalt pavements in a way that improves pavement performance and service life," said NAPA 2019 Chairman John Harper, Senior Vice President at Construction Partners Inc. in Dothan, Alabama. "Attention to best practices and applying innovative technologies and materials are an important part of ensuring the traveling public gets the highest level of performance that asphalt pavements can deliver."
Asphalt Pavements for Heavy-Duty Applications
As an engineered system, asphalt pavements can be designed to carry any traffic load. However, building the right asphalt pavement for heavy-duty, high-stress applications, such as ports and loading facilities, runways, and heavy truck corridors, requires attention during design and construction. To aid in specifying and building asphalt pavements for severe loading conditions, the National Asphalt Pavement Association (NAPA) has released an updated second edition of Design & Construction of Heavy-Duty Pavements (Quality Improvement Series QIP-123). The new publication covers structural design, material selection, mixture design, production, construction, and quality control considerations for heavy-duty asphalt pavements, including discussion of large-stone mixes, which can be an economical solution for these applications. The book is available as a PDF download thorugh the NAPA Online Store.
Guidelines for RAS Use Publication Updated
Every year, about 13.2 million tons of asphalt roofing shingle waste is generated across the United States. This asphalt-rich material does not have to end up in landfills. Instead, the asphalt binder, aggregates, and fibers in waste shingles can be successfully put to use in new roads, parking lots, and other asphalt pavements. To aid in the further use of waste asphalt shingles in asphalt pavements, the National Asphalt Pavement Association (NAPA) has released an updated second edition of Guidelines for the Use of Reclaimed Asphalt Shingles in Asphalt Pavements (IS 136)
The publication covers sourcing of waste roofing shingles, inspection for contaminants, shingle processing, mixture design guidance, binder adjustments, and production and construction considerations. It also includes information on the sustainability and economic benefits of recycling asphalt shingles.